After having its plans dashed due to the coronavirus pandemic, Newcastle will officially carry the UK Pride title this year.
Northern Pride was originally awarded the UK Pride title in 2018 but this was postponed due to the pandemic, with organisers hosting virtual events for the 2020 and 2021 celebrations.
Jenny Dewsnap, Co-Chair of the UK Pride Organisers Network, released a statement in which she expressed her delight that UK Pride will finally be coming to Newcastle in 2022.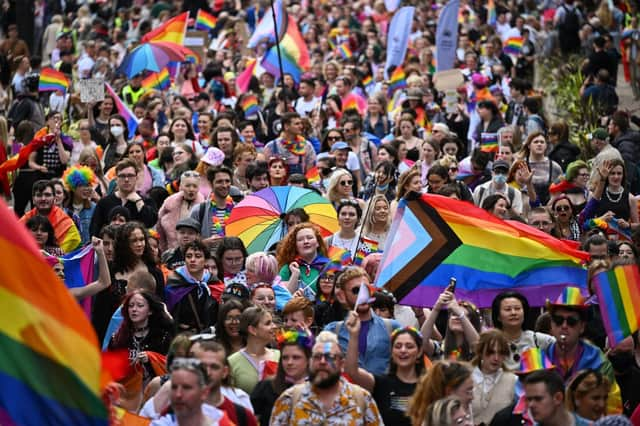 "We were impressed with Northern Pride's bid way back in 2018 and, while the pandemic put a hold on their plans, it was fantastic to see them host virtual festivals in its place to bring the community together online."
"It's shaping up to be a really exciting programme, with something for all ages to enjoy, and we can't wait to see their plans come to fruition."
Pride is a worldwide celebration with countries across the globe putting on special events and seeing communities come together in solidarity to celebrate and make a stand against discrimination.
Pride is a chance to celebrate what it means to be a part of the LGBT+ community, as a community, and remember those who paved the way.
This year's celebration is a significant year for the Pride movement and the LGBT+ community as we commemorate 50 Years since the first Pride took place in the United Kingdom.
So what Pride events are happening across Newcastle?
Here's everything you need to know about the upcoming events.
When is Pride?
Pride takes place throughout the entire month of June every year. However, the UK Pride festival in Newcastle will run from Friday 22 July to Sunday 24 July 2022.
What is Pride?
Pride is a month dedicated to celebrating the LGBTQ+ community all over the world from the people to the culture. It is a joyful time, as well as a time of remembrance.
The occasion is usually celebrated with a parade and other fun events that focus on remembering people of the community that paved the way and celebrating the joy of the community.
The month aims to draw focus on the issues faced by people in the LGBTQ+ society everyday.
What events are happening in Newcastle?
Northern Pride Festival
The Northern Pride festival will run from Friday 22 July to Sunday 24 July 2022. The festival will return to Newcastle's Town Moor, and the city is set to be packed with events planned for the lead up to the festival.
There will be numerous events, acts and speakers for you to get involved with within the festival arena.
The event will get off to a mega start on Friday 22 July with the launch party of pure joy, fun and headlined by superstars. The event is scheduled to kick off at 5:30pm and finish at 10pm.
The Friday night fundraiser launch party will include Broadway star, famed choreographer and award-winning performer Todrick Hall.
Joining Todrick is RuPaul's Drag Race UK finalist Bimini Bon Boulash and world-famous DJ Jodie Harsh, with more acts to be announced soon.
Tickets for the party start from £18, you can book your tickets on the official website.
The Northern Pride march will take place from 12 noon, Saturday 23rd July.
The theme this year is the Remember, Resist and Rise Up mission for UK Pride.
Ste Dunn, Director of Northern Pride, spoke on the upcoming events and is confident this will be their most inclusive and accessible festival to date.
"It's fantastic to be back in a position where we can organise an in-person event and finally get to work making our plans for UK Pride in Newcastle a reality," he said.
"We've chosen a powerful theme this year, Remember, Resist, Rise Up, to pay homage to our collective history, resist oppression – with the pandemic having a disproportionate impact on LGBTQ+ people – and rise up to the challenges we still face.
"Pairing this with a really diverse series of events and plans to showcase more local performers and creatives than ever before and I believe we're on the path to deliver our best festival to date."