Life behind the lens: how photographer Stuart Whitman became a North East running 'treasure'
It's a hard sport to make look pretty, but Stuart Whitman has mastered the skill
Watch more of our videos on Shots!
and live on Freeview channel 276
Visit Shots! now
When you turn up at one of the region's North East Harrier League cross country events, there are only a few aspects of the day you can guarantee.
One is mud, another hills and the other Stuart Whitman poised on the course with camera in hand.
The friendly Birmingham-born photographer has become an ever-present on the cross country scene and earnt a reputation as a local icon thanks to his quality shots of runners.
To find out what makes the perfect photo, and why on earth you might want to stand in North Eastern rain and wind for a whole afternoon, NewcastleWorld spoke to the man himself.
Stuart moved up to the area for work 22 years ago, where he met his wife and settled with his family.
He said: "I got into photography as a result of my wife and daughter doing cross country.
"I went along to support and there's a lot of standing around.
"I thought I could be doing something more productive, which is how I got into it."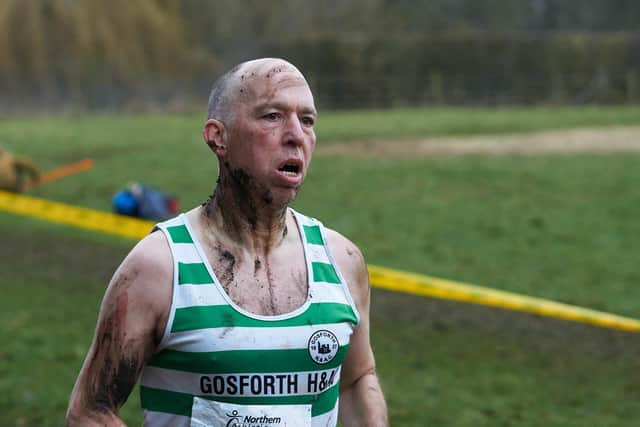 Unbelievably, Stuart had never done any photography before that point and first headed out on the course with "a little point and shoot camera".
Proving a dab hand at the impossible job of making the sport look good in a picture, Stuart's wife soon bought him a better camera for his birthday and the hobby has progressed from there.
On what makes cross country so special, Stuart said: "I think it's the sadistic nature of it!
"It's very challenging, from a sport perspective I don't know anything like it.
"I used to do cyclo-cross, riding around muddy fields, which is similar.
"Cross country isn't about having the best equipment or best shoes, it's you against the course.
"It's unpredictable because of the weather and conditions too which I love."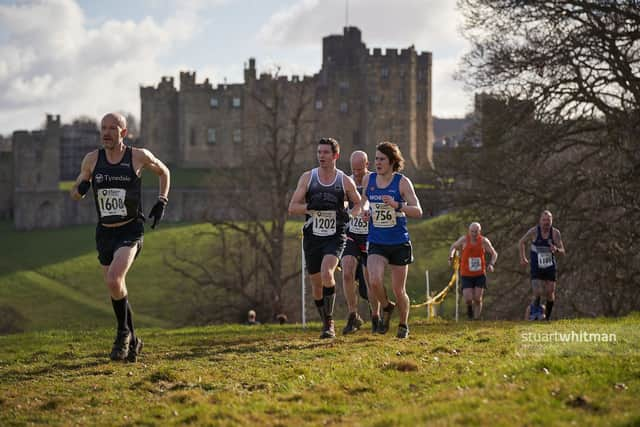 The North East Harrier League calendar takes runners and spectators from Wrekenton to Alnwick and South Shields to Druridge Bay, amongst other locations.
Stuart admits that racing at Lambton Estate is the best for shooting, but has a soft spot for Alnwick.
He said: "It's not that good for photography funnily enough, or quite challenging at least.
"From a scenic point of view with the castle in the background, that's great."
Stuart's photos get uploaded online in the hours after a race and eager runners scroll through the albums to find a shot good enough for their latest Instagram post or Strava caption.
Taking on lofty hills, skidding through mud baths and falling over hurdles, it's a hard sport to make look noble.
On what makes the perfect photo, Stuart said: "You try to make the athletes look powerful.
"You do that generally by getting low, so the athlete is above you. That way their leg position in the photo is much better.
"In terms of getting a good photograph, it's about positioning and getting somewhere with a nice background... that can be quite difficult to do on a cross country course as there can be trees or a hedge behind, something really boring.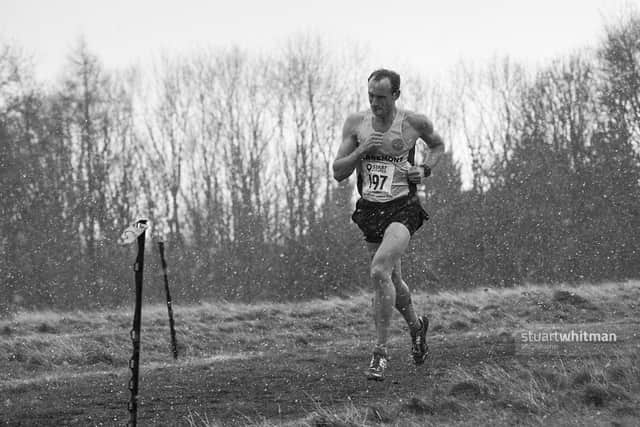 "Trying to find somewhere on the course where you can put the runner and make a scene out of it so it's not just a runner running through mud.
"You want a photo where people can recognise where it is."
Stuart's work is much appreciated by the cross country community in the North East.
North East Harrier League Chairman Archie Jenkins said: "There is no doubt the athletes thoroughly enjoy Stuart's photographs following each fixture and certainly help in the promotion of the North East Harrier League, the oldest cross country league in the country.
"There is no doubt social media and in particular Facebook in recent times has helped this publicity.
"I'm sure the young athletes are inspired and motivated to see their photographs.
"Also, from my viewpoint as race referee, Stuart's shots are a backup checking that technical rules are followed - eg no headphones, race number not defaced, runners wearing their correct club vest!"
Gateshead Harriers Men's Team Captain Steven Medd is one of many athletes Stuart regularly captures.
He said: "Stuart has become as much a part of the cross country races as the mud.
"He's an ever-present out on the course, giving you a shout, whilst he snaps away.
"It's always fun reliving your memories of the race through his photos, which normally come through the day after the race.
"He's got a really good eye and there are many runners whose social media profile picture is one of his, including me."
The Harriers' Women's Team Captain Lisa Atkinson added: "Not only is Stuart totally committed to the cause, he's also a lovely guy!
"He's a first-class photographer and is great at getting the best and funniest photos of the runners at all events.
"He does a fantastic job and is a treasure of the North East running scene."