A Newcastle school have their eyes on a hefty money jackpot but is going about winning it in a very unique way.
Rainbird Primary on Denton Road has been shortlisted for the Community Compost competition, run by The Modern Milkman and Manchester Metropolitan University.
The initiative hopes to educate children across the UK on the benefits of composting, cutting down food waste and how to lead a more green-fingered life.
As well as the educational benefits, it's a chance for schools to win some major cash as an incentive to get kids taking part.
The school that produces the most compost in the country will be rewarded a whopping sum of £3,000 to put towards a sustainable initiative of their choice.
Eliza Norman, the teacher coordinating the competition at Rainbird: "Here at Rainbird Excelsior Primary, we're passionate about teaching our children how they can take positive action to create a more sustainable future and protect our planet.
"We're thrilled to have been chosen for the Modern Milkman's Community Compost competition – it gives us a great opportunity to show the children first-hand the impact of their eco-friendly habits – they're really interested in the whole process and can't wait for their waste to start turning into compost.
"We're encouraging the pupils to eat more fruit and veg at snack time and have been adding this to our composting bin (which is quickly filling up!) – it's also been a fantastic way to get the wider community involved in sustainability – our pupils' families are all donating their own scraps, too!"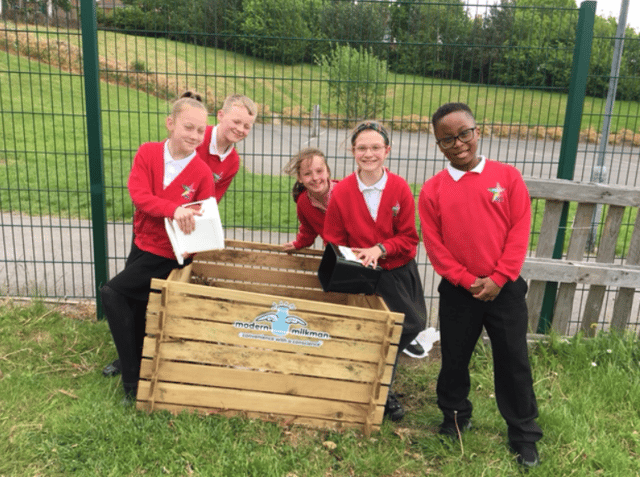 Pupils have seized the opportunity to be outside and get their hands stuck in.
Year 3 pupil Ellie said: "We've added things like eggshells, and apples and pears when we eat them at snack time to the bin.
"If we win, we want to plant our own fruit in the school garden that we can eat at lunch!
"We've been learning about why composting is important and how it helps the plants and the planet.
"We also want to grow flowers that so more bees and bugs come to the garden, which is good for the plants."