Vicky Pattison wows in floral dress at RHS Chelsea Flower Show after sleeping rough for charity
The 35-year-old recently swapped glamour and comfort for a night spent sleeping outdoors to raise money for the homeless.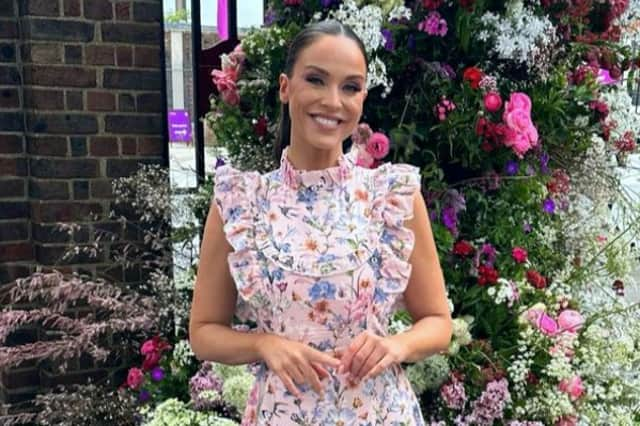 Vicky Pattison looked gorgeous as she stepped out for her very first Chelsea Flower Show this week. The former Geordie Shore star, 35, from Newcastle, wowed as she posed beside a floral background at the event in London.
Vicky wore a pink floral dress with a ruffle neck and sleeves from British luxury brand  Anne Louise Boutique. She teamed the outfit with a pair of white pumps. The TV star swept back her brunette locks for a smart look and opted for makeup.
Earlier in the week, the 35-year-old swapped glamour and comfort for a cold night spent sleeping outdoors to raise money for the homeless charity Centrepoint. She pitched a tent at the RHS Chelsea Flower Show in a garden specifically designed by Chelsea Flower Show legend and Centrepoint supporter Cleve West. 'The Sleep Out' is a fundraising challenge that doesn't replicate what it's like to sleep rough but gives an idea of the situation a lot of young people find themselves in.
Vicky took to Instagram on Wednesday (24 May) to share snaps from the garden show with her 5.3M Instagram followers. In a lengthy statement, she penned: "My very first Chelsea Flower Show was memorable, to say the least… Gosh, where do I even start?!! Probably with a huge Thankyou to the amazing team at @centrepointuk for allowing me to take part in this experience. Youth homelessness is a terrifying reality for almost 1 in 50 young people in England, with that number set to rise this year.
"The work that @centrepointuk does raising much-needed awareness and funds for those experiencing homelessness is invaluable. I actually slept overnight in this unbelievable garden designed by Chelsea Flower Show legend @cleve_west. He created this thought-provoking and powerful garden to attempt to capture the essence of youth homelessness and the attention of the public.
"The central structure of The Centrepoint Garden- is a part-demolished, ruinous house, where over time, nature has taken over. The garden offers a metaphor for the challenges faced by young people when their world becomes uprooted and fragmented through homelessness. There was something tragic but also beautiful about it... Cleve you're just incredible.
"@cleve_west @centrepointuk and myself all just want as many people as possible to understand the gravity of what is going on in our country and the hardships these young people face. I don't think any of us who have been fortunate enough to have never slept rough can understand the fear and isolation these young people must feel, but we can do our bit to help get these young people off the streets and into homes.
"There is a link on my insta story for you guys to see how you can support @centrepointuk either through volunteering, donating or taking part in their next sleepout. The dress is @annelouiseboutique... I had so many people asking about it! And it was lovely."