Sam Fender has dedicated his Ivor Novello award to a North Shields pub landlord who passed away earlier this month.
Last week the Geordie singer picked up his latest accolade for Best Song Musically and Lyrically for 'Seventeen Going Under' at the prestigious Ivor Novello Awards, a prize formerly won by Ed Sheeran, Emeli Sande and Elbow.
However, this year's Ivor Novello award had an even more emotional dedication.
Upon receiving the prize, Fender said: "A very good friend of mine passed away last week, who was my first boss.
"He gave me a job when me and my mum were both unemployed.
"He used to hit me over the head with a newspaper for being a s*** barman.
"I was always playing guitar in front of people instead of serving the customers.
"One day, he went, 'Go get your guitar out and sit in that corner.'
"Had he not told me to get my guitar that day, I wouldn't have met that man over there [manager Owen] and none of this would have happened."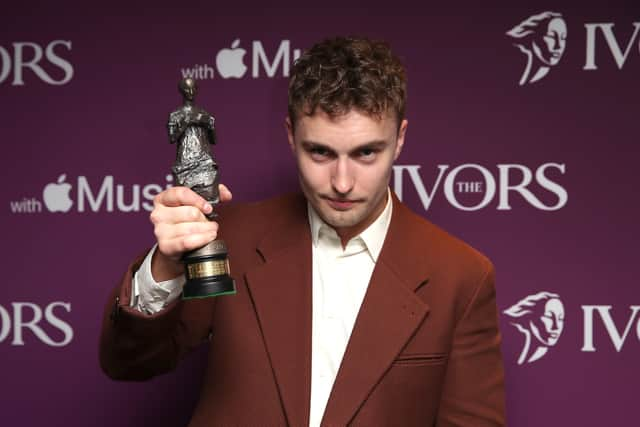 The recently passed father figure Fender spoke of was John O'Keefe, the former landlord at the Low Lights Tavern.
The North Shields watering hole has a special place in Fender's heart and the singer returns back to the pub as much as he can.
Earlier this year, bar manager Lynsey Guthrie told NewcastleWorld that Fender's career switch was probably a good thing.
She said: "He worked here seven or eight years ago.
"He was the worst employee and I've got no hesitation in saying that.
"He was the worst barman ever.
"He'd pull half a pint for someone, let it settle and then go mess around on the guitar.
"Then he'd come back and say 'oh, I forgot to finish your drink'".
The Low Lights Tavern announced the passing of John O'Keefe on its Facebook page earlier this month.
A post read: "In case you have yet to hear, John O'Keefe died peacefully at home with his family around him last week.
"John had no wish for a funeral and his family have asked that we pass on an invitation to his friends to raise a glass in his memory at Percy Park Rugby Club, Preston Ave, North Shields Wednesday 25/5 starting at 11 am. All welcome.
"Pictured here with his Brother the late great Dr Phil Okeefe.
"I hope they sell low-calorie Bass and Jamieson's over there!"