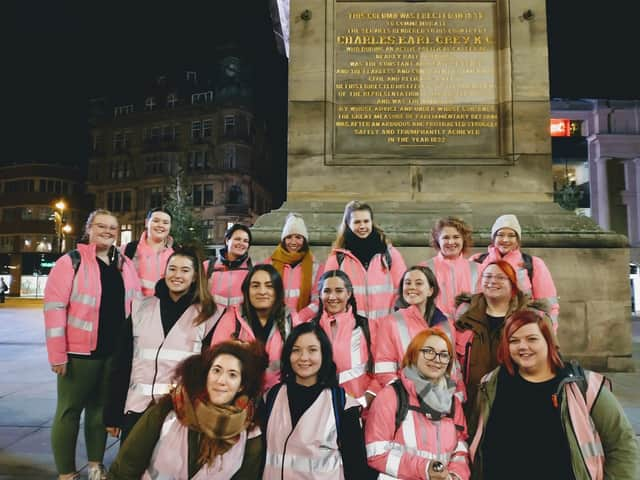 An incredible 97% of women in Newcastle feel safer on the streets of Newcastle thanks to the work of Women's Street Watch.
Women's Street Watch patrol the city's streets at night to help anyone, especially women, who are in need of help.
Following their first full month of activity in October, the group has published the statistics behind their work and why it has struck such a chord with the people of Newcastle.
Out of a survey of 3,220 women, a total of 3,124 said they felt safer knowing that Women's Street Watch existed.
The group said that 97% total was "far greater than what we could have predicted".
The survey also found that over half of the respondents, 58%, had been assaulted in a venue in Newcastle.
The findings highlight the lack of security felt by women in Newcastle and the threat of abuse that exists in bars and nightclubs.
Women's Street Watch also revealed that within 24 hours of launching, they had gained 10,000 Instagram followers and reached upwards of 320,000 people.
Support for the group has been remarkable, with the team revealing that over 100 parcels had been donated including blankets, phone power banks, LED torches, wet wipes and more.
Companies have also donated to the cause with Tesco, Snackfully, The Pure Candle Company, Chin Up Coffee, Full Circle Brewery, Head of Steam, Blues and Bourbon, and Frisk Newcastle all supporting the Women's Street Watch project.
The team of 48 volunteers covers the streets of Newcastle from Wednesday to Saturday between 10 pm and 4 am, with on average 16 team members per shift.
Speaking to NewcastleWorld.com last month about the motivation to form the group, a Women's Street Watch spokesperson said: "We organised the vigil for Sarah Everard at Grey's Monument in March and we were at the vigil for Sabina Nessa to read out the names of every murdered woman.
"I don't think police are doing a good enough job of protecting women. We obviously understand that a lot of that is a lack of resources, time, training and funding but there's no reason we can't do it."