Tyne and Wear Metro users in North Tyneside have shared distressing stories of anti-social behaviour they have witnessed when using the public transport service in 2022.
The last few months have seen a spate of disorderly behaviour on the metro in the region, forcing Nexus and Northumbria Police to place a renewed emphasis on Operation Coastwatch, increasing CCTV and patrols.
In one incident earlier this year, Metro operators were forced to temporarily close Tynemouth station due to "serious youth disorder" as a group of teenage girls smashed train windows.
Now other Metro users have shared their own stories of fright due to anti-social behaviour.
A group of youths spit at a driver
"A gang of youths drinking got on at South Gosforth and got off a few stops later, I think at Northumberland Park.
"They hit the emergency stop button above the pole in the train so the driver had to get out and use his key to clear it.
"They lined the stairs and when the driver got out proceeded to all spit at him.
"When the driver ran the gauntlet to get back to his carriage one lad ran back down to hit the button again.
"A man on the train got up and pushed this lad back out the doors. This resulted in the whole gang of males and females crowding around the metro train door screaming and swearing at his man."
An anxious journey
"Groups of teenagers, the worse for alcohol, were running up and down the Metro, swearing and showing off.
"Other groups of teenagers were scooting at speed along the platforms, intimidating people by scooting too close.
"They weren't actually doing any harm, but making for an anxious journey."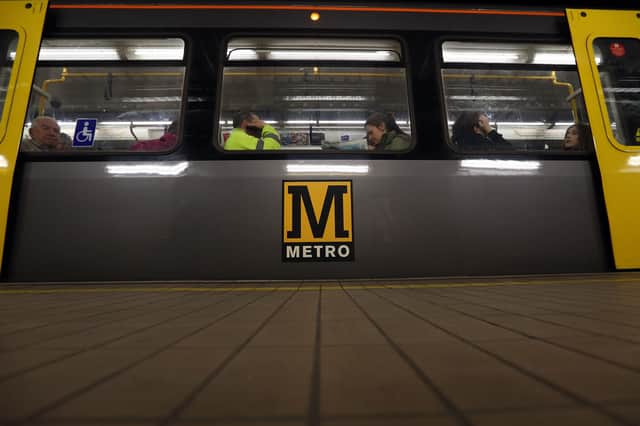 Swearing, vaping and being abusive
"I've seen large groups of youths swearing, vaping, being abusive to other passengers, vandalising, kicking out windows and smoking cannabis on trains."
Aggression from groups
"I've seen teenagers travelling in large groups who appear intent on intimidating and provoking reactions from other passengers.
"Witnessed a lad travelling alone, dragged off the metro by a group at Longbenton station and beaten up at 5 o'clock during rush hour."
Youths swinging from straps
"I was on the Metro the other afternoon when a group of youths were shouting, swearing, and swinging from the straps, then they started to fight.
"A woman got up and shouted for the driving instructor (there was a trainee driver on) to do something and he ignored her completely.
"There is CCTV on these trains, surely someone can see what is happening?"