A group of balmy Newcastle United fans in Argentina are collaborating with Wor Flags to bring a new flag into the Leazes End.
Toon Army Argentina are a supporters' club 7,000 miles away who bring together United fans in the country.
Now they've got a new project on their hands.
Toon Army Argentina's Alexis said: "Our idea is to make a flag for Jonas Gutierrez and Fabricio Coloccini.
"We were lucky enough to make one with our logo and pass it into the hands of Wor Flags.
"They'll hang it up in Leazes and we'll stay in touch in case there are any ideas in the future."
Toon Army Argentina are looking after the cost of the flag, but working with the well-known Wor Flags group to ensure it fits with the moving weekly displays seen in St. James' Park.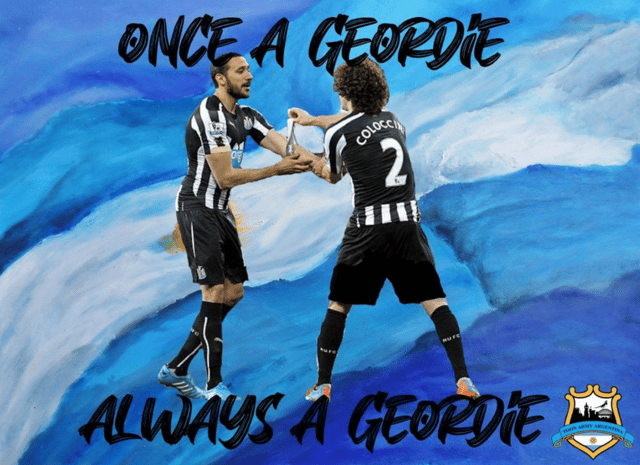 Alexis added: "We chose Jonas and Coloccini because they played through a tricky period in Newcastle's past, fighting relegation and having a huge part in that.
"We've now got a bright future ahead of us led by new faces, but it's thanks to these players who stayed strong in those tough times that we also have to thank for that.
"We're very moved by Jonas' history. He gave everything for the team under tough ownership but knows how to separate that from the fans.
"He never had anything bad to say and in our case, 10 years ago we met him for a meal in Argentina after he found out about the supporters' group.
Explaining how the journey to becoming the Toon Army Argentina began, Alexis said: "I've been a Newcastle fan for 15 years. I've been speaking with the Geordies thanks to the help of a translator.
"Once one told me he knew another Argentinian Newcastle fan. I met him in a bar and I started to want to meet more Spanish-speaking Newcastle fans and, above all Argentinian fans."