Former Newcastle United owner and business tycoon Mike Ashley paid just £1 for his latest big acquisition.
Ashley's Frasers Group have taken over Studio Retail, a home shopping company based in Lancashire.
Studio Retail entered administration on February 15 2022 after failing to secure a loan of £25 million.
Ashley's group was already the majority shareholder of Studio Retail, owning just under 30%.
The businessman is thought to have been eyeing up buying the business for some time and managed to do so for just £1 as it was brought to its knees.
Ashley swooping in saved 1,500 jobs and the ex NUFC owner's group slammed Studio Retail's management for allowing it to go into administration.
Documents submitted to Companies House show the Studio Retail Group owed £50 million for a revolving credit facility and a further £3.1 million when it entered administration.
The document filed by administrators Teneo stated: "Studio Retail Limited (SRL) experienced considerable supply chain disruption during the six months to December 2021, which delayed the receipt of stock into the UK resulting in an inability to meet customer demand and the loss of sales throughout the group's peak, pre-Christmas trading period."
As well as the hefty £1 paid by Ashley, the Frasers Group will also take on £53.1 million of secured liabilities.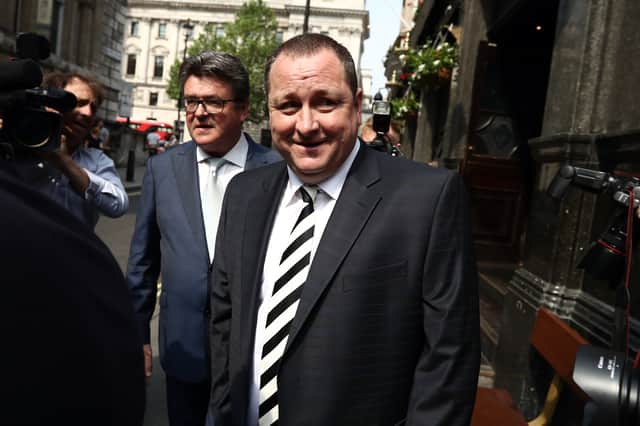 A statement from the Frasers Group said: "Frasers will always act when it considers it necessary to protect shareholder value such as in the past with the failure of Debenhams plc.
"Frasers wishes to be absolutely clear that it has long advocated that SRG was in need of a strategic review to maximise/protect shareholder value.
"Frasers wrote to SRG conveying such a view in Autumn 2020. Although Frasers tried to remain a supportive shareholder it indicated to SRG management a number of concerns around areas such as accounting estimates and judgements and whether management were taking a sufficiently conservative view.
"Furthermore, it is clear that the fundamentals of its business were, at best inadequately scrutinised by its board and/or advisors to the business, or at worst, deliberately concealed as the business entered its death spiral."