Newcastle United send fans 'strict' Carabao Cup warning on behalf of EFL
Fans have been focused on the ticketing waves, but the important warning was incuded at the end of Newcastle United Carabao Cup allocation news.
Watch more of our videos on Shots!
and live on Freeview channel 276
Visit Shots! now
Newcastle United has sent fans a strict warning about ticketing for the Carabao Cup final as details on the Wembley Stadium allocation was unveiled today.
There will be seven waves of sales for cup final tickets, with some using a ballot system as the club sells its 32,761 tickets for the match.
Whilst many fans will have been paying the most attention to which 'period' they fall in to buy tickets, there are several extra warnings and regulations printed at the bottom of the Newcastle United statement.
One of those is about reselling tickets, with fans warned that any purchases are "strictly non-transferable" and that they should not hand over tickets in their name to friends, families or fellow supporters.
The Newcastle United statement explained that not only would doing so be illegal but that the EFL would be ramping up checks on the day of the Carabao Cup Final to catch out anyone entering Wembley Stadium on a ticket not sold to their name.
The statement read: "It is an offence under Section 166 of the Criminal Justice and Public Order Act 1994 for any unauthorised person to sell tickets for this match.
"Newcastle United will not take any responsibility for any financial losses due to lost, destroyed, or damaged tickets, or take responsibility for any financial losses due to tickets being stolen, lost, or delayed by the Post Office. Tickets are STRICTLY non-transferable.
"Newcastle United must provide details to the English Football League on all tickets purchased (i.e. names and addresses of supporters corresponding to the seat details on the tickets issued to the supporter). "The EFL has indicated that random checks will be carried out at the stadium.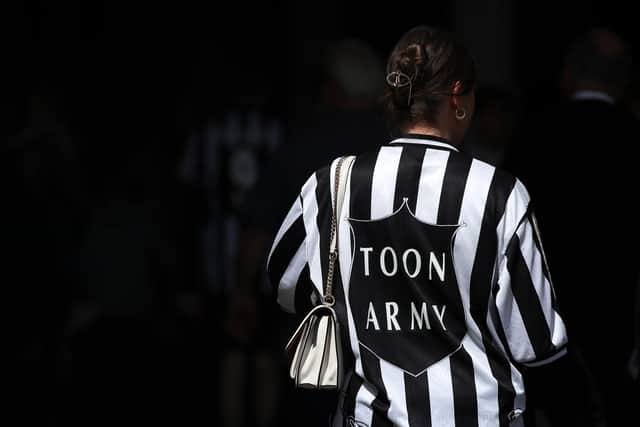 "Newcastle United will not be responsible for any supporter being refused entry either into the stadium, the City of London or the UK. We advise supporters to refer to and meet any changes to entry requirements on the UK Government website.
"The club cannot accept any responsibility for losses incurred due to the purchase of travel and accommodation IF further sanctions are imposed."
Any Newcastle fans wanting to sit together at Wembley later this month are being asked to ensure they have their online ticketing accounts linked via the 'friends and family' section of the official Newcastle United website.
A maximum of six tickets can be purchased in any one transaction and all of those six supporters must have the same required level of eligibility and select the same ticket price band.