The 'unacceptable' trend Newcastle United fans are urged to avoid ahead of Liverpool visit
The Newcastle United Fans Food Bank has sent a message to supporters to think twice before engaging in any offensive chants targeted at poverty on Merseyside.
Watch more of our videos on Shots!
and live on Freeview channel 276
Visit Shots! now
Newcastle United fans are being urged not to take part in offensive chants targeted at poverty in Merseyside when Liverpool visit St James' Park on Saturday.
The Newcastle United Fans Food Bank is once again leading calls for Magpies fans to not sing songs such as 'Feed the Scousers' and 'sign on' after a similar campaign last year - in the away end at Anfield during the 2021/22 season a small section of Newcastle fans could be heard taking part in such chants.
Posting on social media ahead of Jurgen Klopp's side travelling to the North East for the 5:30 pm kick-off on Saturday, the Food Bank wrote: "Following vile chants at recent games in the Premier League, we remind fans on Saturday to refrain from singing hypocritically offensive songs about poverty at Liverpool supporters.
"Newcastle has one of the biggest FoodBanks in the country & Merseyside's Fans' Supporting FoodBanks was our inspiration in engaging Generous Geordies to help local people out & are our brothers in arms of solidarity as Hunger Doesn't Wear Club Colours."
Speaking to The Chronicle last year, Foodbank volunteer Bill Corcoran spoke of hearing those offensive chants at Anfield.
He said: "To hear those chants made me feel disgusted and ashamed. Some might say 'I was only having a laugh' but making a joke at the expense of hunger isn't funny.
"There's a line - that was unacceptable. Newcastle United fans are magnificent and I've never seen anything like the generosity they've given to the foodbank over the last five years. I get it, humour can come from an uncomfortable place and sometimes you can say things that are close to the bone and there's a bit of needle - I kind of like that. But now today, with what we're seeing with the cost of living crisis, we don't take the mickey out of starvation - it's far too serious.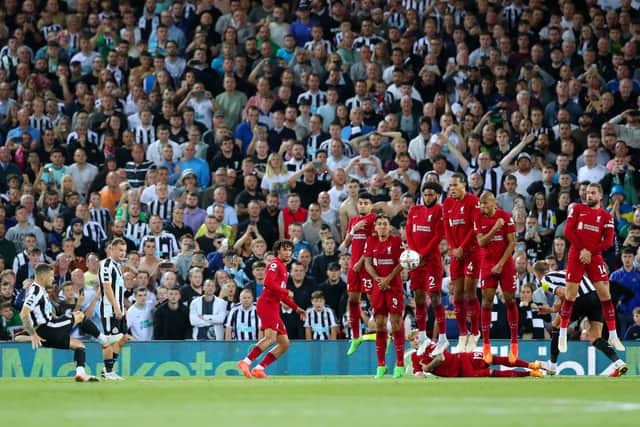 "Take the mickey out of hair-dos and accents - and they can do the same to us but there are mothers on Tyneside and Merseyside who are going without food to feed their children - and there are scousers feeding the Geordies, and Geordies helping to feed scousers through donations to the food bank. That's the way it should be."
Earlier this year, Sportsmail reported that the FA had warned clubs that they could be charged for crowds singing discriminatory and offensive chants.
Douglas Mackay, CPS sports lead prosecutor said: "We are horrified that the beautiful game has been marred by hateful and abusive behaviour in recent weeks. While chants create an amazing atmosphere, songs that include homophobic or racist language have no place in the sport.
"This illegal activity can be, and has been, prosecuted, with perpetrators receiving criminal records and football banning orders. The CPS will continue to work closely with the police, football authorities and fan groups to stamp this out."