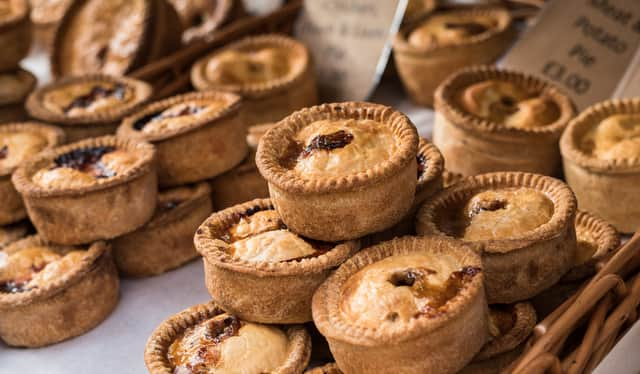 British Pie Week is a celebration of one of the nation's favourite foods.
Running from 7 to 13 March, the week is a chance for foodies across the country to tuck into their favourite flavoursome feast.
Here is a selection of places in Newcastle where you can get your hands on a pie this week.
Geordie Bakers
This local bakers is a haven for flakey pastry goods, and is not short on pie options whatsoever.
It is also the only UK based bakery to bake New Zealand Gourmet pies.
Within their New Zealand Gourmet collection, Geordie Bakers have delights such as Steak and Cheese, Chilli Beef and a vegetarian Spinach and Goats Cheese.
Other pastry options include a sausage roll and a cheese and onion roll.
Redhouse
This Quayside pub prides itself on it's selection of pies, mash and pints.
A wide range of fillings are available, from traditional corned beef to a slightly more adventurous Salt and Chilli Shatake Mushroom.
The hand made pies come with a selection of sides and a variety of gravy.
Each pie comes to just £9.95.
All of this can be enjoyed with views overlooking one of the most iconic areas of our city.
West View Bakery
The independent bakery serves the local community plenty of pastry goodies.
Other than its selection of pies, the bakery has sausage rolls as well as a range of sweet treats to choose from.
West View, Forest Hall, Newcastle upon Tyne NE12 7JL
Pink Lane Bakery
This artisan bakery might only have one pie option, but it is worth visiting not just for its pies but also its wide range of pastries in general.
The pie option, beef and jalapeno, is a tasty looking option, and for the veggie in your life it can be recommended to get them either the cheese and roast onion pasty or the vegan mushroom miso roll.
Pink Lane Bakery Gosforth
Like its sister shop on Pink Lane, the Gosforth shop is a wonderment of pastry delights.
Although not inundated with pie options, the beef and jalapeno pie is sure to give any pasty lover a real spicy kick.
Make sure to try some of the sweet options the bakery has in store too, this will round off your trip to the Gosforth establishment in the best way possible.
Geordie Pie and Mash
This North Shields favourite is said to provide customers with great food and great banter.
Pies and pie dinners aplenty, you'll not go far wrong with a trip to this place during British Pie Week.
Online reviews tell of friendly staff and amazing food, so make sure you can drop by.
W Percy St, North Shields, England, United Kingdom, NE29 0DJ
Kenny and Rhind
Located in the heart of Jesmond, this cafe/ bakery has a selection of pies along with a host of food items to sink your teeth into.
The choice of pies vary from day to day, so probably best to give the cafe a call before going there.
Each pie is served with gravy and vegetables and is priced at £10.95.
French Oven
Almost all of the French Oven's products are made locally and sold at their shop in Grainger market.
Amongst the large collection of pastries are several pie flavours.
These range from Ham and egg and Chicken balti to Mediterranean vegetables and feta.
The prices of the oven's pies will also make your mouth water, with the pastries costing between £1.40 and £2.20.
Dicksons Byker
This bakery is a north east staple and has been for almost 70 years, and with pies like theirs you can see why.
A fitting place to grab your British Pie Week meal, the Byker branch has plenty to offer.
Pork, steak and mince and onions are the three main pies at the bakery that you can pop in to purchase.
Alternatively, you can order for delivery via Uber Eats.