Great North Run founder Sir Brendan Foster has heaped praise on a local designer's work to create the finisher t-shirt for this year's event.
The wacky new design was unveiled at an event on Tuesday morning with fewer than three months to go before the iconic North East running event takes place.
Being handed out to 60,000 well-deserving people every year, the t-shirt is one of the region's most iconic items of memorabilia.
The 2022 t-shirt has been designed by Geordie artist James Dixon, who works under the name of Lines Behind.
This year's finisher shirt is a bold step away from the traditional design, with a detail-packed piece of kit that highlights all the famous moments and people related to the Great North Run.
The artist's work will also go on a collection of memrobilia for the event.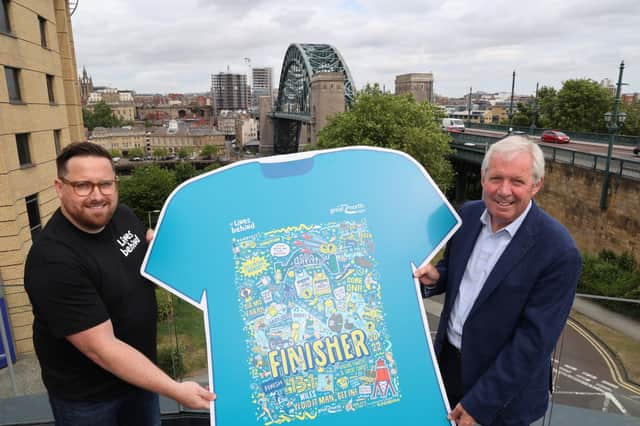 Sir Brendan Foster told NewcastleWorld: "I think it's a great t-shirt!
"This design is particularly exciting, the fact it's been done by James who is a talented local artist... we are really happy about that.
"He'll be really excited on the night of the Great North Run when you see 50,000 or 60,000 t-shirts with people sitting in pubs having something to eat and walking through the station - he'll be really happy and he should be."
As well as name-checking running greats who have competed in the event, such as Sir Mo Farah and Dame Tanni Grey-Thompson, the t-shirt includes Geordie landmarks, catchphrases and more.
There's a reference to the Red Arrows fly-past and chants of 'Oggy, Oggy, Oggy'.
The local designer also held inclusion close to his heart, including graphics of runners of all shapes and sizes.
This year's finisher's medal has also been designed by James and was revealed at the event.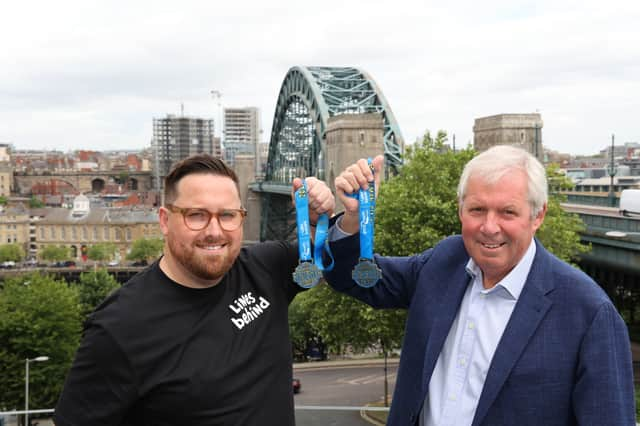 The artist branded it a "dream come true" to be entrusted with the responsibility.
He said: "I think there's a lot of pressure to keep everyone happy but I think we've got a nice design that flows really well.
"I think this, for me, is the pinnacle being in the North East. I run it every year and know the experience and what's behind it.
"This is a dream come true.
"I tried to lend my style to it and make it so when people pull it out of their drawer in five or ten years time people look it and go, 'oh, I remember that!'."
The Great North Run 2022 takes place on September, September 11.