It's October 7, 2021 and the sun is setting over St James' Park.
Among the raucous cheers and cracks of Newcastle United fans opening cans of beer, a saxophone pipes up with the tune of 'Local Hero'. Stood next to the man blaring those familiar tones with a huge beam across his face is none other than BRIT Award winner Sam Fender.
The North Shields star lives and breathes Newcastle United and, while for many music fans the thought of an artist with such notoriety showing up to a hoard of jubilant football fans may be unheard of, for Magpies supporters it was almost expected.
No matter the heights that Fender has risen to, he's remained firmly rooted in the North East and his love for the football club is always at the forefront of his existence.
His two sold-out shows at St James' Park this June are a 'childhood dream come true' for the 29-year-old and his pride at taking to the cathedral on the hill will be felt tenfold by the Geordies and Newcastle fans in the stadium.
Liam said: "It was an incredible evening, it was an outpouring of emotion.
"This city, the people who had been supporting the football club had been waiting 15 years for some sort of joy and hope. It was an outpour of what had built up over those years.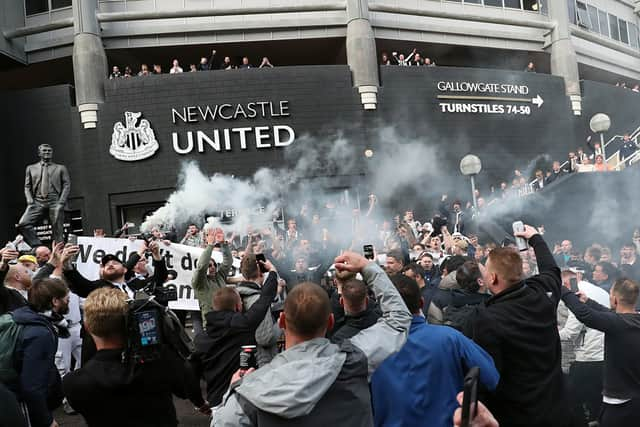 "You had thousands of people congregated around the statues and The Strawberry. There was a lot of emotion.
"A lot of drink taken that night with cans flying everywhere! It was all love, there was no animosity. Everyone came to a place where they felt that shared emotion and I felt I had to be here as well."
Making the most of the night as a lifelong Newcastle fan, Liam was one of those who bumped into a merry Sam Fender as he mused on what a bright new future might hold with fellow fans.
He said: "It was really strange! We'd been here, seen a lot of the takeover go through, and had a few cans. We decided to go to The Strawberry for a couple and we were waiting at the bar and all of a sudden a familiar face popped up on my shoulder.
"He gave an interesting interview with a few expletives we had to cut out on NewcastleWorld where he was less than complimentary about the previous owner, Mike Ashley.
"He was wearing the same tracksuit he famously went on morning TV wearing. There are the amazing pictures of his band playing here on the statue. I've got to say he was a fair bit inebriated on the evening but it was one of those nights!"
The most iconic part of the night of the takeover for the 'Hypersonic Missiles' singer was actually to come the morning after.
Fender was karted away from St James' Park and down to the capital on the promo road for new music - an early call for BBC Breakfast a challenge for the post-takeover celebration hangover.
When he arrived on the BBC Breakfast sofa, the singer was greeted by Charlie Stayt and Nina Warhust to begin an interview that would go down in Newcastle United folklore.
Nina, who is an avid fan of 'Seventeen Going Under', told NewcastleWorld: "He didn't look worse for wear! He was really warm and polite, he looked a little bit dazed but most people do when they walk in because of the environment it is.
"He was really polite and shook everyone's hand and came and sat down. Some people come into the studio and aren't particularly warm and chatty with the crew and then come to life on air but he was the same on and off camera.
"He actually asked my editor, who was the most senior person in the building, where the nearest McDonald's was... which we all know is the perfect hangover breakfast!"
Nina, who is a Manchester United supporter but admits she has fond memories of Newcastle United having been bought her first Bovril by a kind Magpies fan when on an away day aged eight, added that Fender's charisma was "not something you can force".
She said: "In the slot he was on, we're looking for that warmth and energy people can relate to. It's not something you can force and he has it in spades because he is unapologetically who he is, it's part of his personality and music that he's very true to himself. It's rare to get that transparency and honesty with someone.
"I found it extremely refreshing because so many people who sit on that sofa are media trained within an inch of their lives and don't allow any personality to come through.
"I'm not sure many who come on the sofa would stay up all night having a good time with their pals. I thought, good for you. That's the kind of thing I'd have been doing at your age!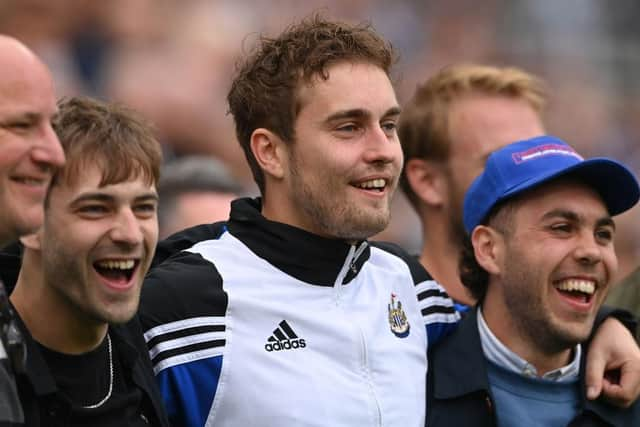 "It's great your successful career hasn't dominated the fun that you're having with your pals, because that's what you should be doing on an exciting night! I really liked his honesty."
Nina admitted that, being a journalist, asking Fender about the takeover was at the forefront of her mind in hopes of generating a strong newsline over the controversy of the Saudi owners, but that it quickly became about how much fun he had the night before.
Just as the BBC star was overcome by Fender's personality, it's a charm that has worked on Newcastle United fans too.
Catching up with some before the fixture against Tottenham Hotspur in April, Magpies supporters gushed over the singer and how he represented the region.
One such fan is 14-year-old Joe, who is known for busking outside the ground on matchdays and raising money for the NUFC Fans Food Bank.
He said: "I'm really excited, he's a local lad he grew up in Newcastle and is playing at his home team's ground. It'll be electric. I saw him at Exhibition Park and him being in Newcastle was amazing so him being at St James' will be 10 x better.
"It's really good to have a role model that's local instead of being from down south. It makes us want to do more with music. If I was to ever meet him I'd probably just tell him how much I love him and how he's such an inspiration."
Other fans who stop by on their way into watching their side play share their love of Fender wearing the black-and-white colours wherever he goes, whether it be on stage or the BBC Breakfast sofa.
Newcastle fan Liam, who is going along on the Friday night of Fender's shows said: "By the sounds of it, everyone has taken the day off! It'll be a big day on the town. Hopefully, the sun is shining and we'll make a day out of it.
"It's great to see him represent the club. To see someone like that leading the light in English music is fantastic."
When over 100,000 make the pilgrimage to St James' Park in June, it'll be a landmark day for Fender's career and for the city, after a year and a half of optimism since the takeover day.
Summing up the grandeur of the occasion, Liam Kennedy said: "For him, it'll be such a special thing, being a fan since he was young you can see the passion he has for the football club. He's been representing the city of Newcastle and Newcastle United all over the globe and it makes you proud as a Geordie.
"It's special to see someone who cared about the club and the city take our brand all over the world and come home to do it here. It's an amazing thing for somebody like him."