Some of us love to curl up with a good book, especially during the winter months. But if you are bored with your usual fiction collection, and fancy getting your teeth into a juicy tell-all, then look no further.
Many of our hometown heroes have released autobiographical books over the years, so if you've ever wanted to take a peek into the personal lives of pop stars, reality TV stars, footballers and more then check out our list below.
Here are the best autobiographies from Geordie celebrities that you need to read!
My Story was released by Cheryl in 2012. The book detailed Cheryl's childhood, rise to fame, time in one of biggest UK's girl groups, working for The X Factor, and most of all her marriage and divorce to footballer Ashley Cole.
Our World was Little Mix's second group autobiography published in 2016. However, it was a more personal insight into the lives of the girls, and the ups and downs they had all faced in their personal and professional lives.
Released in 2004 by Sting (real name Gordon Sumner). The memoir discusses Sting's relationship with music and his childhood life in Wallsend.
Ant and Dec - Ooh! What A Lovely Pair
Ant and Dec's first autobiography Ooh! What A Lovely Pair, was released in 2009. The book is packed with hilarious stories, emotional moments and a full insight into their career.
Vicky Pattison - Nothing But The Truth
Former Geordie Shore cast member Vicky Pattison released a tell-all book in 2015. Vicky describes her upbringing, university life in Liverpool and working as a hostess in the top clubs in Newcastle. She also gives readers behind the scenes gossip from Geordie Shore and other TV shows she has appeared on.
Chris and Rosie Ramsey - Sh**ged. Married. Annoyed.
An extension of their incredibly successful podcast of the same name, Chris and Rosie Ramsey released their book in 2020. The book provides readers with hilarious anecdotes of married and parental life, as well as an insight into how the pair met and more.
Alan Shearer - My Story So Far
Released in 1998, Alan Shearer's autobiography My Story So Far detailed his journey into the world of football. He takes the readers through his start at Southampton, before becoming captain of the England football team.
Marnie Simpson - Stripped Bare
Another Geordie Shore entry, Marnie Simpson's Stripped Bare which was released in 2017 was a tell-all memoir from the star. In the book Marnie discusses her upbringing, her Geordie Shore experience and other details from her personal life.
Paul Gascoigne - Being Gazza: My Journey to Hell and Back
Gateshead born Paul Gascoigne (commonly known as Gazza) tells us his unique story in his autobiography from 2006. In this book, Gazza addresses his various experiences and struggles in his life.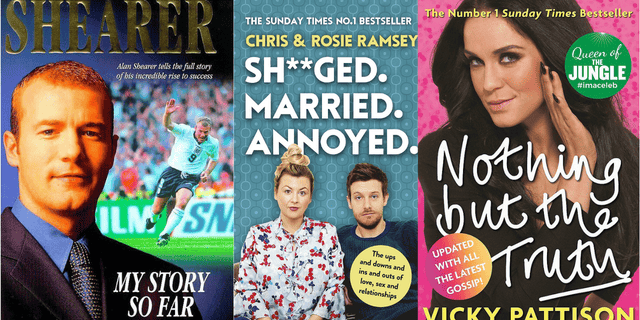 Sarah Millican - How To Be Champion
South Shields' comedian Sarah Millican released How To Be Champion in 2017. The heart-warming and funny read explores Sarah's life and career in her usual humorous style.