The 1975 brought out special guests in Lewis Capaldi and famous father of Matty Healy, Geordie icon Tim Healy, as they dazzled a sold-out Utilita Arena audience in Newcastle.
The Brit Award-winning band brought the The 1975: At Their Very Best tour to Tyneside on Wednesday night and weren't alone as they blasted through hits old and new.
After the opening 45 minutes of the show, the lights dimmed on stage as The 1975 boys scurried off. When illuminated again, actor Tim Healy was perched on a couch and greeted with a wall of Geordie glee.
Geordie legend Tim Healy covers The 1975 track
The star, best known for his roles in Auf Wiedersehen, Pet and Benidorm, stunned the Utilita crowd with a take on the band's 'All I Need To Hear'. Once cheered off the stage, Benwell-born Tim returned to watch the rest of the set in the crowd to whoops, claps and pats on the back from fellow spectators nearby.
Newcastle fans of The 1975 couldn't believe their luck, but there was more to come before the night was over. The band's set on this tour is split into two halves, one dedicated to newer material and the second a chance to bring out the big guns with chart-topping hits.
In between the two acts, a small number of previous shows had seen a special guest performance - Taylor Swift in London, Charli XCX in Manchester and Phoebe Bridgers at one of the US dates.
Having already been treated to a Tim Healy cameo, the Newcastle crowd was ready to explode when a knock on the stage door was heard and the name Harry Styles flashed up on screen.
Harry Styles lookalike Lewis Capaldi appears
Out came, well, Lewis Capaldi. And whilst many music fans might've rather have had the former One Direction man, Capaldi has a keen following in Newcastle - more so than ever after he stunned the same venue earlier this week after diving into a North Shields fish and chip shop and posing for photos beforehand.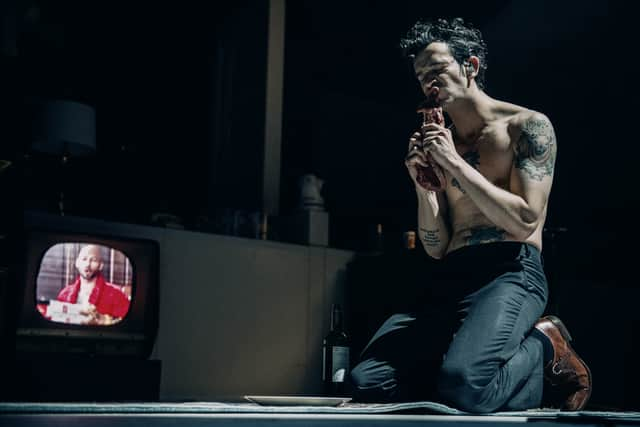 Capaldi, playing on the fact that The 1975 fans had convinced themselves that Styles would appear in London, joked: "Hello. My name is Harry Styles, it's good to be here. I know what you're thinking, he looks different and he sounds different, but make no mistake I am Harry Styles. I'm about as close as you're going to get to seeing Harry Styles live. I'm also as close as you're going to get to hearing this next song live, I would imagine."
Capaldi then treated the crowd to a rendition of The 1975 track 'Antichrist'. Not done with his trademark Scottish banter, he then added that he had 'a much bigger penis than Harry Styles' and that he couldn't be bothered playing his own material with so many of his own tour dates recently, so launched into a cover of Taylor Swift smash single 'Love Story'.
Clearly, Newcastle attendees are big fans of Swift too with that track rallied back at an anthemic level before Capaldi hurried off stage to let The 1975 boys finish off the unforgettable evening.